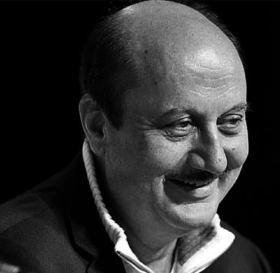 I was born in a poor family, a lower middle class family.
My father was a clerk in the forest department. I was very bad at studies. I was not very good at sports, also.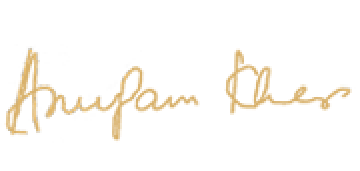 Privacy Policy
theanupamkher.com is committed to safeguarding your privacy. We process personal data in accordance with this Privacy Policy as well as applicable data protection laws. Please see below information on how we collect, use, and store your personal data.
Collection and Use of Personal Information
We collect information from you at the time of registration with the Website or during any interaction with us through calls, emails, or other correspondence. We collect information with respect to Your First Name, Last Name, Mobile Number and Email and Address.
We will use your personal data received on account of the submission of the forms on the Website only to contact you and provide you with the information or assistance that you have requested. Additionally, we may also use your personal data to contact you to ask whether you would like to receive information from us about updates, events.
Based on your video rental, our payment gateway partners collect information with respect to your credit/debit card details or other bank account details. This information is stored by our payment gateway partners. For instance, we will be using third party payment gateway providers to process and facilitate the payment of your rental fee to theanupamkher.com for providing you access to the subscription. Please note that Anupamkher.com does not directly collect any financial information such as credit card or debit card or net banking details from you. Such payment gateway partners are not controlled by us. When you visit such payment gateways you do so at your own risk. These payment gateways may have their own privacy policies in place, which we recommend you review if You visit any such payment gateways. We do not assume any responsibility or liability for such payment gateways, the content of such payment gateways and their privacy practices, nor do we endorse them. We encourage you to familiarize yourself with the privacy statements provided by such payment gateways prior to providing them with information about you or entering into any transactions with them.
We collect information in order to provide you with a safe, efficient, smooth, and customized experience. This allows us to provide services and features that most likely meet your needs, and make your experience safer and easier.
Except as provided herein, we do not solicit any Sensitive Information about You. However, if you share such information with us voluntarily, We will not be liable for any actions, claims, costs, expenses or other liabilities that may arise as a consequence of such any unauthorized use or misuse of such information.
Cookies
A "cookie" is a small piece of information stored by a web server on a web browser so it can be later read back from that browser. Cookies are useful for enabling the browser to remember information specific to a given user. We place both permanent and temporary cookies in Your computer's hard drive. The cookies do not contain any of Your personally identifiable information.
We may combine Your Personal Information or Sensitive Personal Data or Information, other information to provide You with the Services and a better experience on Anupamkher.com
Data Retention
We retain personal information only for as long as we believe it to be necessary for purposes set out herein for which the personal information was collected, subject to any legal requirements for the data to be retained for longer periods of time.
Deleting Your Information
If You wish to have the Personal Information or Sensitive Personal Data or Information that You have provided to us deleted, You can always do so by sending a request to us on the e-mail id provided at the bottom of this page. You may note that the deletion of certain Personal Information may lead to cancellation of your registration with the Anupamkher.com .Collection And Use Of Personal Information We collect the information directly provided by you, your usage and log data, data collected through cookies.
Security
We strive to protect Your Personal Information against unauthorized disclosure, misuse, unlawful use, modification, loss or destruction. We take all reasonable measures and precautions, as per standard industry practices, to keep Your Personal Information confidential. We ensure compliance with all applicable laws.
Amendments
This Privacy Policy is subject to change from time to time without any written notice to you. We reserve the right, at our sole discretion, to modify the terms of this Privacy Policy from time to time in order to ensure compliance with applicable laws ("Updated Terms"). The Updated Terms shall be effective immediately and shall supersede these terms of this Privacy Policy. We will not be under an obligation to notify you of any changes to this Privacy Policy. You shall be solely responsible for reviewing the Privacy Policy from time to time for any modifications.