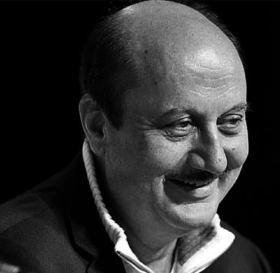 I was born in a poor family, a lower middle class family.
My father was a clerk in the forest department. I was very bad at studies. I was not very good at sports, also.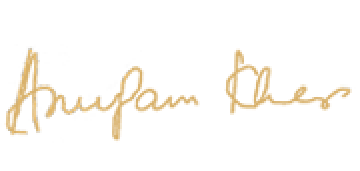 Terms & Condition
The users are requested to kindly read the terms and conditions below carefully, before making the payment to watch the play Kuch Bhi Ho Sakta Hai (hereafter referred to as KBHSH) online on www.theanupamkher.com.
1-The user must complete the Registration Process to rent and stream the website's content. In case the registration is done on behalf of another person, the person has to be intimated about the terms and conditions of the website.

2-To watch the full play online the user will have to pay a rental fee of INR 399 (USD 5.99).

3-Please follow the payment instructions carefully when making the payment.

4-Rental fees once paid will be strictly NON-REFUNDABLE.

5-The user will have 7 days (including Sundays and any Public holidays) to complete viewing the play. Post the expiry of this period the user will have to pay the full rental fee again to watch the play.

6-KBHSH and its cinematographic and audio content and the published materials. The content is protected by copyright laws and treaties around the world. All rights reserved.

7-The user is prohibited from renting, leasing, loaning, selling, distributing, or creating any copies or derivative works of the content (KBHSH play). The user shall not exploit the intellectual property in any unauthorized manner. Any unauthorized copy and usage of the material (pictures, video, text) will be liable for legal action.

8-The usage of content is for domestic and personal use only.

9-www.theanupamkher.com has all rights to remove, suspend any part of the site, or it's content without prior notice, and in no circumstances will www.theanupamkher.com or its partners and owners be liable for any damages caused to the user as a result.

10-The user has to enter the username and password to rent and stream the content (KBHSH play) used during the registration process.

11-The user is solely responsible for the security and usage of passwords, and the necessary steps have to be taken by him/ her to maintain confidentiality and non-disclosure. www.theanupamkher.com has to be informed of any unauthorized use of your password, and www.theanupamkher.com will not be liable for disclosed or improper use of passwords.

12-www.theanupamkher.com has all rights to disable the account at any time if there is compliance failure.

13-If the user forgets the password, www.theanupamkher.com will make provisions for setting a new password if the user passes the security checks.

14-The user has to ensure that all the details entered during the registration process are true and accurate in all fields. The user is responsible for notifying www.theanupamkher.com in writing if any changes are made to the registration details. If either of the terms is not met, www.theanupamkher.com reserves the right to terminate your service access.

15-As mentioned above, no parts of the services or site shall be reproduced in any manner. Neither the navigational structure nor the presentation shall be copied.

16-www.theanupamkher.com implements cookies to track usage of services in accordance with the Privacy Policy. Usage of any part of the site or service is prohibited as per the Terms and Conditions.

17-In the absence of compliance, it will result in the violation of infringement rights leading to civil and criminal proceedings against the user. By accepting the terms and conditions, you are entitled to ensure that the site and services are not used for any purposes prohibited by the law.

18-You are entitled not to circulate or support the modification of any security or software technology that is linked to the site.

19-The user agrees that no services will be used that could hamper the functionalities and functioning of the site in a usual manner. Nor will he/ she try to gain unauthorized access through hacking, password mining, etc.

20-Any losses or costs resulting due to the breach of the above terms are the user's responsibility.

21-The user must be a minimum of 18 years of age to watch the play. If the user is under 18, and 13 years of age or above, the parent or legal guardian can register on his /her behalf, in the absence of which the user will not be entitled to the site services. The parents or guardians are responsible for site usage, and proper supervision is necessary. An indication is provided when the content is not suitable for minors.

22-The content is streamed based on the rental plan. A receipt of purchase will be sent to your registered mail address.

23-In case any problem arises in accepting the payments, mail notification will be sent to the customer.

24-The user agrees to pay www.theanupamkher.com the standard charges related to the rental and streaming service.

25-www.theanupamkher.com has the right to change the charges with respect to time without prior notice.

26-All payments under the agreement are including GST or its equivalent.

27-www.theanupamkher.com sends mail notification for every valid purchase but is not entitled to make sure that you have received it at your end.

28-The user is responsible to notify www.theanupamkher.com if there is any discrepancy in the content streamed within the hour of accessing the play.

29-The site includes links to third-party websites that are operated and controlled by outside entities. www.theanupamkher.com does not endorse any websites and is not responsible for the content on the third-party websites that are linked to or from our page.

30-www.theanupamkher.com ensures that the service is available throughout the day and is nowhere responsible in case of unavailability of service during any period of the day.
The access to the site will be temporarily suspended without notice in case of reasons like repair, maintenance, or system failure.

31-The access to the site will be temporarily suspended without notice in case of reasons like repair, maintenance, or system failure.

32-www.theanupamkher.com makes sure that the website is virus and bug-free, but no guarantee can be provided in this regard.

33-The user is solely responsible for obtaining access to the site to use the service, and we cannot be held accountable for any failure from your end to access the site. It is the duty of the user to access the service from his end, and any fee or third-party equipment charges incurred during this process will not be entitled to www.theanupamkher.com.

34-Any technical problems to access our content due to the nature of the internet is not our responsibility.

35-No guarantee is provided from our end that the services will be compatible with your computer. We take the utmost care in providing the service, and we cannot be held responsible for any data loss or damage caused by your system due to our services.

36-The content cannot be used on any device that is not owned by you or has control of, and distribution or streaming of content from your end will lead to legal proceedings.

37-No minor changes should be made to the content or its back-end data as it breaches the terms and conditions of www.theanupamkher.com, and the user will be subjected to prosecution for damages.

38-The usage of services is at your own risk. www.theanupamkher.com does not provide any assurance regarding the content, service, or site will be uninterrupted and error-free. The site, service, and content is availed to the users based on availability and do not provide any guarantee of any kind.

39-www.theanupamkher.com does not guarantee the error-free or virus-free nature of content streamed from the site.

40-Any third-party acts connected with the use of the site is not the liability of www.theanupamkher.com.

41-To the extent permitted by law, www.theanupamkher.com and third parties connected to www.theanupamkher.com expressly exclude all the conditions and warranties implied excluding statute, prevailing laws, laws of equity. Any loss or liability of any kind incurred due to the site or services or any linked sites that breach the contract.

42-If www.theanupamkher.com is found liable to any loss incurred by you, the compensation will not exceed the fee paid by you to avail of the service, and the payment would be made within six months of the initial claim.

43-www.theanupamkher.com reserves the right to do the following at any time without prior notice: Modifying, Interrupting, Suspending, and terminating the access to the site or any part of the site. Modifying and changing the policies and terms of the site.

44-www.theanupamkher.com collects your information in accordance with the privacy policy. The privacy policy applies to the users of the site and services and is bound to the terms and conditions. By using the site and services, the user agrees to the PRIVACY POLICY.

45-www.theanupamkher.com has the right to disclose your identity and details if required concerning any investigations or legal issues pertaining to the use of this site. The site reserves all rights to disclose information that complies with the laws regarding criminal proceedings.

46-Your details will be disclosed or exchanged if required by law for fraud protection purposes.

47-www.theanupamkher.com reserves the full right to terminate your services without any notice or reason if the terms and conditions are found to be breached. The site will not be responsible for the termination of service/ site access.

48-If the terms and conditions as stated are deemed to be invalid by the court or any competent jurisdiction, The part of the terms and conditions which was considered to be to be invalid will be taken off, and the remaining terms and conditions will remain and be in full effect.

49-Governing Law: The services, terms, and conditions will be entitled/ under the laws constructed by the Government of India under the jurisdiction of Mumbai.

50-The primary way to access the full play KBHSH is by paying rental-fee for content. The rent and rental refer to the content made available to stream for 7 days.

51-Registration Process: If the registration is made on behalf of an educational institution or commercial entity, the access to the service will be terminated with immediate effect

52-Service and Site Usage: www.theanupamkher.com provides content for theatrical productions. Clips, trailers, and gallery photos on the site can be previewed at no cost for a promotional basis.

53-Service is for personal use and has to be non-commercial. Not using the service for educational or commercial purposes. No Making copies of any streams.

54-All International transactions will incur an additional forex charge.